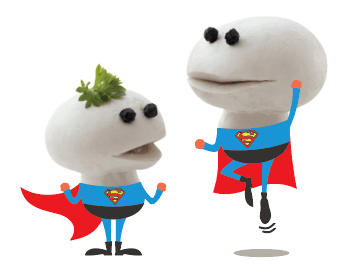 Good food. Great ideas. Happy life.
Scelta Mushrooms, the world's no.1 supplier of mushrooms, has been a client since its birth in 1993. The charasmatic CEO Jan Klerken has been innovating his way to success. His company has grown through various stages and is now poised to grow from good to great. To aid this growth in the new economy it is important that the brand stands for something. So that whenever, wherever, someone touches the brand they get the same experience. Good food. Great ideas. Happy life will give focus and energy over the coming years. This will form the basis of all future marketing activities, a strategic architecture for success.
How we did this.
We developed this core strategy for Scelta Mushrooms. Good Food. Great ideas. Better Life. This represents an overarching vision for the brand. Good food. Scelta is all about good sustainable food. The mushroom is an official superfood. Scelta mushrooms are Dutch mushrooms. Representing the finest quality in the world. In the food world where you come from is important. Great ideas. But Scelta is more, much more. Scelta is a leader in food innovation. Producing mushrooms exactly how the customer wants them, on time, on budget. Food flavourings, Umami and the innovative 'Use the Juice' concept. Scelta is also harnessing the medicinal properties of the mushroom. Happy Life. This is selling the why? The benefit of eating mushrooms… a happy life. But, typically Scelta it is more. It is also what we do for the community. Kokkerelli, the kids University of Cooking. Supporting the local physically challenged kids and the first division Football team. Good Food. Great ideas.
Happy Life.
We created the powerful mission statement.
Grow great mushrooms.
Turn clients into friends.
Build a global network.
Make customers' wishes come true.
Have fun while making a profit.